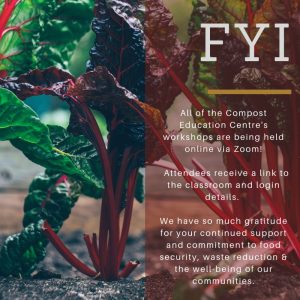 The Compost Education Centre is pleased to offer a diverse range of workshops on composting, organic gardening, and sustainable living topics every year.  Check out what's coming up at the Centre on our calendar or click your way over to our Eventbrite page for the full line-up and descriptions!
You can register for workshops through our Eventbrite page, by calling the Centre at 250-386-9676, or by emailing us at office@compost.bc.ca. Be sure to double check dates and times on the workshop listings on Eventbrite. Each link below will take you to the event page.
2020 WORKSHOPS
January 25: Winter Fruit Tree Pruning
February 1: FREE Composting Basics
February 1: Advanced Fruit Tree Pruning Techniques
February 8: Planning Your Year Round Veggie Garden
February 8: Composting Toilet Systems
February 22: Rainwater Resilience
February 29: Boulevard Blooms and Street Greens
February 29: Greenhouse Growing: Cloches, Hoop Houses and Coldframes
March 7: FREE Composting Basics
March 7: Spring Planting: From Seed to Seedling
March 14: Gardening for Garry Oak Ecosystems
March 21: FREE Worm Composting
March 21: Planning Your Year Round Veggie Garden #2
March 28: Grow Your Own Food 101
March 28: Soil Amendments: What and When?
April 4: FREE Composting For Small Spaces
April 4: Making Herbal Tinctures
April 18: FREE Advanced Composting
April 18: Regenerative Agriculture for the Home Garden
April 25: FREE Soil: Really Important Tiny Lives
April 25: Garden Pests and Disease: Organic Solutions
May 2: Creating an Herbal First Aid Kit
May 9: Organic Plant Sale
May 30: Home Scale Solar Systems
June 6: FREE Composting Basics
June 13: Annual General Meeting and Garden Party!
August 8: Organic Plant Sale
September 12: Composting Basics
September 12: Herbs for Winter Wellness
September 19: FREE Worm Composting
September 19: Hot Water Bath Canning
September 26: FREE Soil: Really Important Tiny Lives
September 26: Pressure Canning
October 3: FREE Composting Basics
October 3: Canning Swap (Registration Details to Come)
October 17: FREE Advanced Composting
October 17: Fermented Hot Sauce and Salsas
October 24: Perennial Vegetables
October 31: Grow Your Own Mushrooms
November 7: FREE Composting Basics
November 7: Advanced Mushroom Growing Techniques
November 14: Fermenting Vegetables
November 21: FREE Sheet Mulching
November 21: Propagating Perennial Fruit Bearing Plants
Save
Save
Save
Save
Save