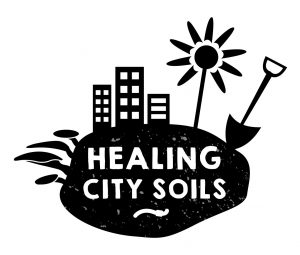 Healing City Soils 2020 Applications Are Now Open! 
Applying using the form located here. 100 applications will be selected for testing based upon the needs of the student's project objectives; application does not guarantee selection.  Reapplication in following years are welcome!  Applications close March 31st, 2020.

Project Background
Thanks to generous funding from the Victoria Foundation, and the Capital Regional District, Healing City Soils (HCS), a partnership between the CEC, soil toxicologist and HCS Program Technician, Danielle Stevenson of DIY FUNGI, GIS specialist and Mapping Coordinator Steeve Deschenes, and Royal Roads University, enters its 5th year!
HCS is about getting to know the soil beneath our feet, and building community around healing it.  Learning about the soil where we live also means acknowledging and honoring that the South Island is comprised of the traditional territories of the Lkwungen speaking peoples, the Songhees and Esquimalt Nations, the SENĆOŦEN speaking communities of the W̱SÁNEĆ Nation, as well as the T'Souke and Scia'new First Nations.*
Ensuring that soil is healthy is the first step to any urban agriculture project; from backyard growing to community and boulevard gardening. Urban soils can sometimes contain heavy metals and other contaminants as a result of our industrial past and present.  Potentially toxic soils can be a concern for urban food gardens as the contaminants may be taken up into or onto our veggies and fruits. Soil testing can be expensive, and results couched in jargon can be confusing or disheartening, all of which create barriers to getting more folks growing their own food.
The goal of Healing City Soils is to analyze the health of the region's soils and create a virtual soil map of the Capital Regional District highlighting areas where heavy metals may need to be addressed before growing food. This map is paired with factsheets and workshops to empower people with the knowledge and skills to grow food safely or to heal the soil with compost, plants and mushrooms.
*To learn more about First Nations communities where you live, see: The First Peoples Cultural Council Language Map of BC or visit First Nations Land Rights and Environmentalism in BC.
Free Soil Tests and Soil Quality Mapping

Through partnership with the Royal Roads University BSc. in Environmental Science Program and funding from the Royal Roads University Foundation, free soil testing for heavy metals were made available to residents of the City of Victoria and Esquimalt in 2016, Saanich and Oak Bay in 2017 and View Royal, Colwood and Langford in 2018.  Applications are open to those who are growing food, or are interested in starting food gardens or food forests on boulevards, in community plots or in their front or backyard.
From 2016-2018 we were able to more than 400 free soil tests for heavy metals. Soil test results from the first two phases of the project are now uploaded onto the Victoria Soil Quality interactive online map, hosted on the Victoria Compost Education Centre's website and available here: https://www.compost.bc.ca/healing-city-soils/victoria-soil-quality-map/. This open-access map provides community members with a picture of soil health throughout the city.
As of January 25th, 2019, we have opened applications and are offering free soil tests to residents of the Capital Regional District and the results of these tests will be given to the participants and will be added to the soil health quality map. Participants are chosen on a first come, first serve basis and at the discretion of the student teams from RRU and the project coordinator. All information is confidential and no addresses are shown on the map.
Factsheets and workshops
A key piece of this project is raising awareness, sharing information to inspire safe and healthy food production here in the city and empowering people with the necessary skills to build the health of their soil if contaminants are found. We have released factsheets with information specific to Victoria about:
Soil Contamination Getting to know your soil (including how to understand a soil test)
Best Practices for Healthy Urban Gardens Backyard bioremediation: How to work with plants, mushrooms, and compost to address heavy metal contamination in your soil
Already had your soil tested? Send us your soil test results:
If you've already had your soil tested, please send us the results to office@compost.bc.ca so we can include them in this research.
For more information:
Contact Alexis Hogan: office@compost.bc.ca
Thank you to our project partners at Royal Roads University, and Danielle Stevenson of DIY FUNGI.
Save
Save
Save
Save
Save
Save